The development process is well underway for the City of Scranton's Strategic Economic Development Plan which will serve as an actionable and forward looking vision for our city. Research, analysis, and community engagement have, and will continue to be, integral to the design approach. We're excited to announce the progress that has been achieved thus far and ask for additional community input as we work through the final stages of the planning process.
Scranton is not starting from scratch. This plan will build upon the important initiatives already underway in our city. As such, we have reviewed prior plans and performed data analysis to establish a strong baseline understanding of the current state of the community and economy in Scranton.
We have received valuable input from community members through one-on-one interviews and small group sessions held with more than 45 stakeholders, with representation across industry leaders, business owners, community activists, residents, and elected officials.
Through a series of working sessions attended by more than 60 community stakeholders, we have begun designing initiatives and solutions which will directly shape the final Strategic Economic Development Plan. These workshops were centered on several of the plan's areas of focus: Industry, Housing, Community Identity and Neighborhood Reinvestment, Infrastructure, and Talent Attraction and Retention.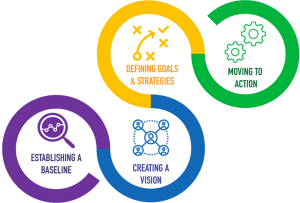 As we begin refining our strategy and developing a plan for implementation, we are seeking additional community input. It is critical that this feedback is representative of what all Scranton residents would like to see for our future, so that we may align around a common vision for our City.
We are asking community members to complete a brief survey about where we are, where we're going, and how we're going to get there. Scranton's Community Survey will be open through the end of February. Thank you in advance for contributing to this important planning progress.
Last modified: February 15, 2022