About the City Controller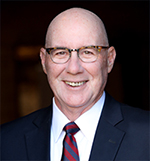 Mr. Murray was elected City Controller after a 27 year career in Pennsylvania state government and a 10 year career in private industry.  He was Regional Director for the Pennsylvania Department of Auditor General spanning over 20 years and three Auditors General.  He oversaw the operations of both the Scranton and Reading Regional Offices encompassing over one third of the state.  Prior to his career in state government Mr. Murray worked for Emery Worldwide in their International Accounting Headquarters holding various positions from entry level to management. He is a lifelong resident of the City of Scranton. He attended St. Paul's School and Bishop Hannan High School in his earlier years. He was awarded an Associate in Science in Business Management from Lackawanna Junior College and a Bachelor of Science in Business Administration from Marywood University.
He is involved in many local organizations. He was the founding President of the Board of Directors of the local Susan G. Komen Breast Cancer Foundation. The Foundation was formed after the passing of his first wife the late Judy McDonough Murray in 1991. The local Komen Foundation has raised money for mammograms and cancer research through its annual Race for the Cure. He is also the founding President of the Board of Directors of the IHM Foundation whose main purpose is to raise funds for the retired Sisters of the Congregation Sisters of the Immaculate Heart of Mary, He is currently President of the Board of Directors of the Scranton Cultural Center at the Masonic Temple and sits on the boards of The Society for the Preservation of the Tripp Family Homestead as well as the Scranton-Lackawanna Human Development Agency.
Mr. Murray resides in the City of Scranton with his wife, Elizabeth Small Murray. They have three daughters and six grandchildren all residing in the area.